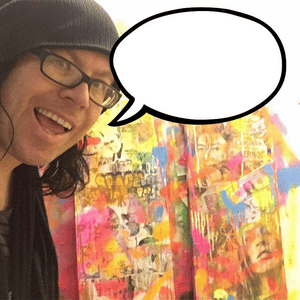 Barrie J Davies
Artist Talk
Barrie J Davies Artist Talk - If you would like me to come and do a talk about my urban pop artwork, the processes and my fun ideas. I am available for hire in the UK.
🗣️ The cost of this talk covers my travel to get there, my time and any accommodation, but my aim is is inspire and to let you know about me and my artist journey. 
🗣️ My previous talks have been at Cardiff Metropolitan University, Coleg Morgannwg Nantgarw, Stone Space Gallery London and other Art Venues.
🗣️ Hello my name is Barrie J Davies and I'm an Artist based in Brighton, UK. The artwork I make is a fusion of pop art, graffiti art, street art and contemporary urban art. The work is a mix of paintings on canvas, limited edition pop art prints and sculpture. The materials I use include acrylic paint, household paints, spray paint, glitter, screen printing, stencils, markers, mixed media collages of comic books, posters and found objects.
🗣️ Please contact me to double check my availability before purchase. Please note this is only available in the UK. 
🗣️ Also to never miss out on new artwork and exhibitions join my Mailing list
🗣️ You can also follow me on Instagram, Twitter, Facebook, Tiktok and Youtube.
---
Share this Product
---
More from this collection