HELLO MY NAME IS BARRIE J DAVIES & I'M AN ARTIST BASED IN BRIGHTON. WELCOME TO MY FUN WORLD.  I MAKE FUN COLOURFUL & HUMOROUS URBAN CONTEMPORARY POP ART PAINTINGS, LIMITED EDITION PRINTS, SCULPTURES, ANIMATIONS, DOODLES, STICKERS, BADGES, VIDEOS, STREET ARTWORK & LOTS OF OTHER FUN COOL STUFF!
Barrie J Davies is a Brighton based Artist. My artwork is an exotic cocktail of graffiti art, humour, street art, graphic and pop art. I graduated from the Southampton Institute with a Fine Art Degree in 2000 and I completed my Master's Degree in Fine Art at the University of Wales Institute, Cardiff in 2004. My paintings, prints and sculpture are inspired by social media, graffiti, consumerism, pop culture and the urban life in which I live. The materials I use to make my artwork are a mix of acrylic, household paints, spray paint, glitter, screen printing, markers, comic books, digital print and found objects. My street art inspired subversive pop art is a fun colourful psychedelic and humorous approach to expose the human condition: notions of success, money, glamour, love, death, sex, gender & religion are picked at with dry comedic use of tragedy meshed with absurdity.
My urban pop art is in many public & private collections worldwide and is also owned by Noel Fielding & Norman cook aka Fatboy slim.
If there is any artwork on my website that you are interested in buying and have any questions please don't hesitate to get in contact with me and all orders come with free stickers.  
Free delivery worldwide on all online orders of paintings, prints and sculptures.
Follow or stalk Barrie on Instagram, Twitter, Facebook, TikTok and Youtube to see his daily new urban pop art & work in progress. 
Also to never miss out on new artwork and exhibitions join the VIP list.  
WHAT IS HAPPENING BARRIE J DAVIES?
Another video of me making art in the studio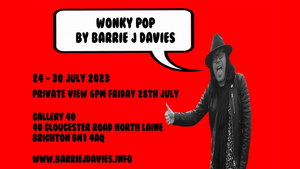 Come and see my solo exhibition!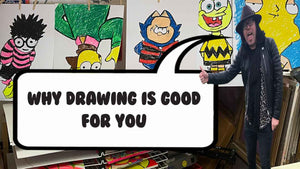 Latest work in progress drawing in the studio