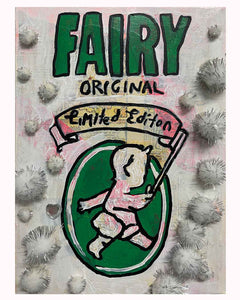 Barrie J Davies
Washing Up Time Painting
Washing Up Time Painting by Barrie J Davies 2023, Mixed media on Canvas, 21cm x 29cm, Unframed and ready to hang.
⛲ Hello my name is Barrie J Davies and I'm an Artist based in Brighton, UK. The artwork I make is a fusion of pop art, graffiti art, street art and contemporary urban art. The work is a mix of paintings on canvas, limited edition pop art prints and sculpture. The materials I use include acrylic paint, household paints, spray paint, glitter, screen printing, stencils, markers, mixed media collages of comic books, posters and found objects.
⛲ Free Shipping worldwide on all artwork. 
⛲ Please note this artwork does not come framed. 
⛲ Free Stickers with each order.

⛲ You can also follow me on Instagram, Twitter, Facebook, Tiktok and Youtube.
⛲ Also if you buy this artwork I would love to see how you display it in your home (or possibly somewhere else). Why not share it on your social media using the hashtag of #barriejdavies or tag me in @barriejdavies
---
Share this Product
---
More from this collection