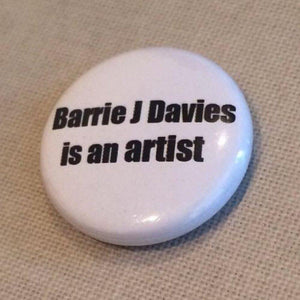 Barrie J Davies
Barrie J Davies is an Artist Badge
Barrie J Davies is an Artist Small pin badge.
This is part of a conceptual art project which I started in 1998 in which the phrase "Barrie J Davies is an Artist" was used to advertise myself as an artist. This text piece is also available on stickers, t-shirt's, badges, pencils, wooden spoons, Hip flasks, postcards, socks, mugs, signs, tote bags and other multiple unlimited ephemera.    
👋 Hello my name is Barrie J Davies and I'm an Artist based in Brighton, UK. The artwork I make is a fusion of pop art, graffiti art, street art and contemporary urban art. The work is a mix of paintings on canvas, limited edition pop art prints and sculpture. The materials I use include acrylic paint, household paints, spray paint, glitter, screen printing, stencils, markers, mixed media collages of comic books, posters and found objects.
📦 Free Shipping worldwide on all artwork and badges. 
📭 Also to never miss out on new artwork and exhibitions join the VIP list.
🖼️ Please note this artwork does not come framed. Sorry! 
📱You can also chat and ask me questions on Whatsapp. 
😀 Free Stickers with all order of badges.

👍 You can also stalk me on Instagram, Twitter, Facebook, Tiktok and Youtube.
🎧 listen to the Barrie J Davies Podcast.
😀 If you would like to purchase an original artwork but have a question or need any pre sale assistance please get in contact.
---
Share this Product
---
More from this collection