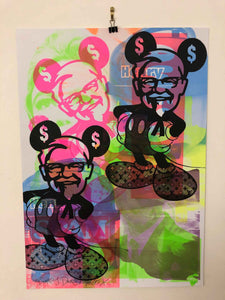 Barrie J Davies
Mad Mickey Mashup Print
Mad Mickey Mashup Print by Barrie J Davies 2020 - unframed Silkscreen print on paper (hand finished) edition of 1/1 - A2 size 42cm x 59.4cm.  
🤪 I do love making a crazy mash-up print!!
🤪 Also each of my prints is unique and edition 1 of 1. 
👋 Hello my name is Barrie J Davies and I'm an Artist based in Brighton, UK. The artwork I make is a fusion of pop art, graffiti art, street art and contemporary urban art. The work is a mix of paintings on canvas, limited edition pop art prints and sculpture. The materials I use include acrylic paint, household paints, spray paint, glitter, screen printing, stencils, markers, mixed media collages of comic books, posters and found objects.
🤪 If you would like to buy one of my contemporary urban art prints but have a question or need any pre-sale assistance please get in contact.
🤪 For any additional information please read my FAQ page.
📦 Free Shipping worldwide on all my artwork. Yes!  
🤪 Free cool Stickers with each mad mash-up print order.
📭 Also to never miss out on new artwork and exhibitions join my super amazing VIP Mailing list.
🙌 If you would like to order this crazy artwork and collect it from my artist studio in Brighton this can also be arranged, please get in contact. (this can be sorted for you)
🤪 You can also follow/stalk me on Instagram, Twitter, Facebook, Tiktok and Youtube.
✂️ Please note: limited edition prints are cut by hand in the studio, therefore sizes can vary by mm. All measurements are approximate and for guidance only.

✏️ All street pop art limited edition Prints are signed, dated and numbered by the artist.
🤪 Also if you buy this limited edition pop art print I would love to see how you display it in your home (or possibly somewhere else). Why not share it on your social media using the hashtag of #barriejdavies or tag me in @barriejdavies
📱You can also chat and ask me questions via Whatsapp. 
🤪 Check out more prints in the Mad Mickey series of prints.
---
Share this Product
---
More from this collection