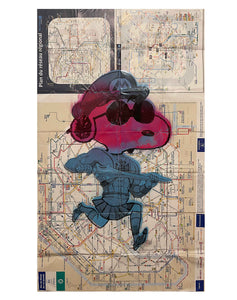 Barrie J Davies
Paris Map Dude Print
Paris Map Dude Print by Barrie J Davies 2022, unframed Silkscreen print on paper (hand finished) edition of 1/1, 65cm x 37cm.
✏️ All dude Limited edition Prints are signed, dated and numbered by the artist.
✏️ Please note that this map is very distressed and has slight tears on the paper. But does look really cool! 
📦 Free Delivery worldwide on all cool artwork. 
📦 This cool Limited edition print comes delivered in a solid cool cardboard tube.
🖼️ Please note this cool artwork does not come framed. 
❤️ This art does look cool on a map!
👋 Hello, my name is Barrie J Davies, and I am a Brighton-based artist. Pop art, graffiti art, street art, and modern urban art are all represented in the work I do. Paintings on canvas, limited edition pop art prints, and sculpture are all included in the collection. Acrylic paint, craft paints, spray paint, glitter, screen printing, stencils, markers, and mixed media collages of comic books, posters, and other objects are among the tools I utilise.
😀 Free cool Stickers with each order! 
👍 You can also follow me on Instagram, Twitter, Facebook, Tiktok and Youtube.
✂️ Please note: limited edition prints are cut by hand in the studio, therefore sizes can vary by mm. All measurements are approximate and for guidance only.
🙌 Also if you buy this cool Print I would love to see how you display it in your home (or possibly somewhere else). Why not share it on your social media using the hashtag of #barriejdavies or tag me in @barriejdavies
👍 Please be aware that for deliveries within the EU, the aforementioned price does not include local taxes and that your order may be subject to import charges and tax, which must be paid at the time of delivery. These costs are beyond of our control, and we are unable to estimate their size.
---
Share this Product
---
More from this collection