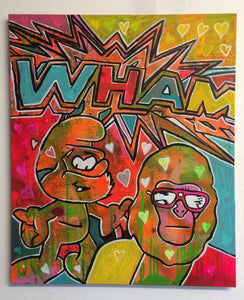 Barrie J Davies
Wham bam thank you mam Painting
Wham bam thank you mam Painting by Barrie J Davies 2015, mixed media painting on Canvas, 50cm x 60cm, unframed and ready to hang.
👋 Hello, my name is Barrie J Davies, and I'm a Brighton-based artist. Pop art, graffiti art, street art, and modern urban art are all included into my work. Paintings on canvas, limited edition pop art prints, and sculpture make up the work. Acrylic paint, household paints, spray paint, glitter, screen printing, stencils, markers, and mixed media collages of comic books, posters, and other objects are among the things I utilise.
If you would like to buy one of my pop art paintings but have a question or need any pre-sale assistance please get in contact.
📱You can also chat and ask me questions via Whatsapp. 
For any additional information please read my FAQ page.
📦 Free Shipping worldwide on all artwork. 
📦 This painting comes delivered in bubble wrap inside a secure cardboard box.
😀 Free awesome Stickers with each order.
📭 Also to never miss out on new artwork and exhibitions join my VIP Mailing list
🙌 If you would like to buy this pop art painting and collect it from my Brighton artist studio this can also be arranged, please get in contact.
🖼️ Please note this artwork does not come framed. 
👍 You can also follow me on Instagram, Twitter, Facebook, Tiktok and Youtube.
🙌 Also if you buy this artwork I would love to see how you display it in your home (or possibly somewhere else). Why not share it on your social media using the hashtag of #barriejdavies or tag me in @barriejdavies 
---
Share this Product
---
More from this collection